It seems that no matter how non-traditional a wedding celebration claims to be, the guest book remains a solid tradition. However, it has grown to be much more than the standard sign-your-name-on-the-line style.
(Click photos to be taken to the source!)
Hanging Monogram
We opted for an 18″ wooden letter that now hangs above our headboard. Guests signed their names with a super-fine Sharpie pen and we sprayed a layer of matte sealer over the top.
Unpainted Baltic Birch letter purchased from CraftCuts.com.
Polaroid Book
Assign a person (a faux-tographer?) or have guests take pictures of each other with a Polaroid camera, and place their photo on a page in a scrapbook, then write a message.
Photo Book
This is an update of the traditional sign-on-the-line version. Make a photobook of the happy couple from your favorite picture processing service (like Snapfish, Shutterfly, or Mixbook — hint: sign up on all three for email coupons and deals and wait for a 40-50% deal – they happen often enough that if you have a few months to go, wait it out.) Make sure you leave LOTS of blank space for guests to sign. Figure in that some guests will write more, some will write less. Also do your research on archival pens and you may want to include a sign that requests guests wait a moment in between signings so you don't get any smudges on the glossy paper.
Thumb Print Tree
This is the latest rage. Guests "leaf" their fingerprint on a blank tree image — on canvas, on wood, on anything! Leave some baby wipes on the table for guests to clean their hands.
You can download a free starter tree to print off here:
And this is the fanciest (read: most expensive) version I've seen.
Puzzle
This would go absolutely perfect with my favorite Ellen Degeneres quote: You know when you're doing a jigsaw puzzle and the piece looks like it should fit exactly, but it doesn't? … You really should find the right piece. (Source)
The spendy route…a custom-cut, wood puzzle:
The DIY/Thrifty route…Make your own picture puzzle and have each guest sign a piece. You could mod podge the pieces later, then hang it in a frame.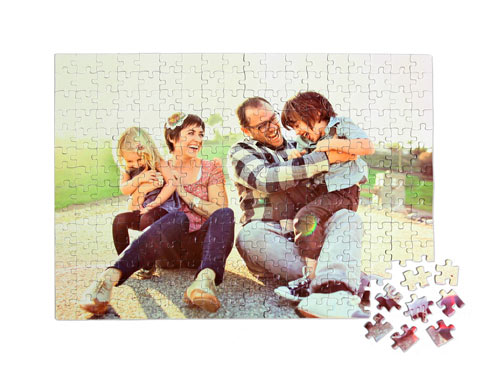 Or you could purchase a generic puzzle and paint it with a monogram and your wedding date first, to make it look similar to this:
A Wishing Tree
Guests hang their well-wishes on a branch. I love this for prettiness' sake, but not so much for the "What do we do with this now?" that surely happens after the decorations come down. However, you can certainly place the little cards in a scrapbook or photo album.
Wishing Well
Along the same lines as the tree – but perfect if your wedding is outdoors. Simply place the "wishes" in a pretty jar. Later, you can scrapbook or put them in an album, or maybe simply a pretty box to look at through the years.
Jenga
This would be fun to play Jenga every anniversary with your new spouse, if each tile had a special message or wish.
Quilt
You could have a pre-made quilt and have your guests sign it. OR use fabric squares and pens and have the quilt put together later.
Guest Book Prompts
What if you want your guests to write more than just their name? You should post a sign with some writing prompts (although maybe this is the English teacher in me?). Here are some ideas (some borrowed from here):
What's the best marriage advice you've ever gotten?
What's your favorite memory of us?
What should we name our kids?
What is a great date night idea?
What's the most romantic place we should visit?
What should we do during our first year of marriage?
Where do you see us in 25 years?
When did you know we were meant for each other?
What was your favorite moment at the ceremony?
What is your favorite dinner recipe?
The possibilities of course, are endless!
Have you seen any unique guestbook ideas not mentioned here? Please comment below!