Every gal needs a place to store her jewelry. Here are some great options for unique ways to DIY your own organization systems.
Pretty drawer pulls on scrap wood:
Start with a standard serving tray…
and use paper, spray paint, and mod podge!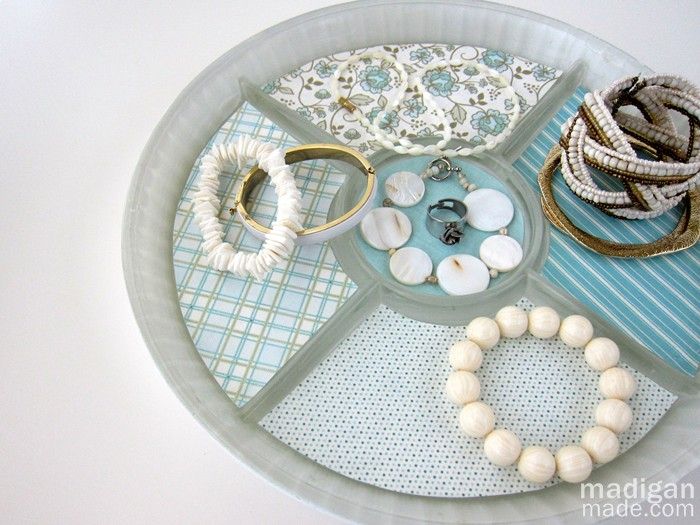 Turn two silver trays and a wine goblet into a 2-tiered tray:
Use the base of an old rake to hang your necklaces:
No room to display your earrings? Make a book from felt and cardboard:

(I'm curious if you could use a sturdy hardcover book, take some pages out of it, and glue two pages at a time to a piece of thin cardboard….)
A picture frame, mesh, and a shelf become an organizer that can hold EVERYTHING:
Lace strips on an repurposed picture frame is great earring storage:
Knobs & pulls (you could buy some old ones from a re-store and paint them!) on a fabric-covered board:
Shower curtain hooks to hang necklaces and bracelets:

(My favorite idea and one I really want to try) Hide your jewelry behind some art or a favorite frame:
Another use for reclaimed wood:
Find something random — like an old dismantled chair back — and repurpose it:
Want to tuck your jewels in a drawer? Use an ice cube tray:
And this is just great…if you don't have a husband who would choke after seeing an entire wall dedicated to jewelry:
Do you have a great way to display and/or store your jewelry?