I love Halloween! Cute or gory, it's all fun! A few great tricks for adult makeup effects that I've discovered:
– Use eyelash glue anywhere on your face to adhere stuff…like gemstones around the eyes, or extra fuzz from a wig to create hairy eyebrows:
– Use petroleum jelly and coffee grounds to create stubble on your face. The gals in the office I worked with a few years back actually did this – we were hunters for Halloween (the one male in our room was the ill-fated deer) so we dressed in orange and spread coffee grounds on our chins and cheeks. Worked like a charm as long as we didn't itch it!
– Spread a glue stick across your eyebrows to glue them down. Smooth and let it dry, then cover with makeup. Then you can draw eyebrows wherever or however you want them.
– For some gore, use a mix of toilet paper or paper towel, with Elmer's glue and latex (you can purchase that at a costume shop) to create an effect of skin falling off. Some friends used this effect for a zombie crawl this year:
This year I get to be Poison Ivy, so I'm pumped to figure out my makeup: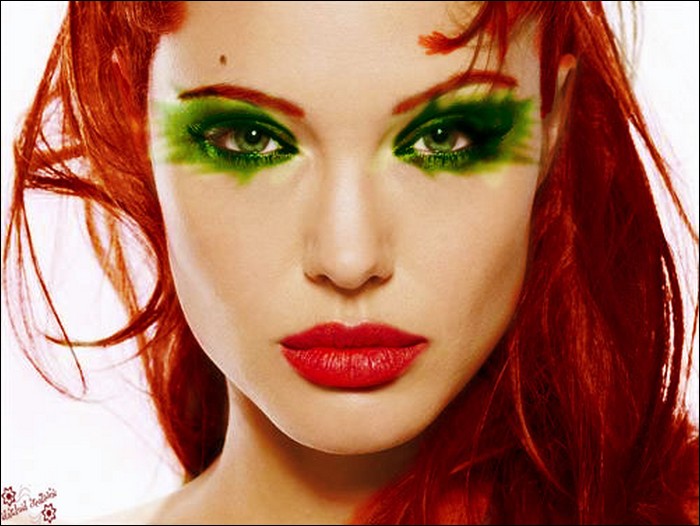 These are some of my favorite (both beautiful and gory) costume makeup tutorials – click the picture to view the video or text tutorial!
 The Pretty:
Betty Boop – Or Vintage Doll:
Doll eyes:
Avengers-Inspired Makeup:
Marilyn/50's Star makeup:
Avatar:
Cinderella:
Mad Hatter:
Jack Sparrow:
The Gory:
Zombie Makeup:
More Zombie effects:
Creepy Doll:
Unzipped? Ewwww!:
She-Wolf:
Victorian Goth:
Edward Scissorhands:
And if you want TONS of makeup effect tutorials, visit these sites:
——————————-
Next Post (stay tuned!): Children's Costume Makeup
Do you have some favorite costume makeup tricks or tips?